Overview
Edit
SMARTEAM makes use of best-in-class software from other vendors tied together with their own code to create the overall PLM system. Storage of SMARTEAM objects and links (the logical building blocks of the system) occurs in the database. Objects frequently represent files that are managed in the vaults. By applying application logic to these objects, links, and files, the system offers useful functionality to users. ok
Basic Architecture
Edit
The most basic SMARTEAM system would include one license of Editor. By SmarTeam's rules for how they package and sell the product, buying a seat of Editor would also provide you with a license of Foundation. By having these two licenses, you would also have the right-to-use one client seat (with a corresponding server license) of Oracle Enterprise Edition and the right-to-use License Use Management software to manage and serve the licenses.
Now that we know what software is available to us, we can lay out the different installations that need to occur and discuss how many computers are required:
Hardware:
Server S1
Server S2
Server S3
Workstation W1
Software:
S1 - Windows, UNIX, etc.

LUM

Basic License Tool
Configuration Tool
Service Manager Tool
S2 - Windows, UNIX, Linux, etc.

Oracle Enterprise Edition Server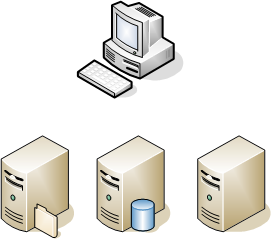 External Links
Edit
Back to Main SMARTEAM page
Ad blocker interference detected!
Wikia is a free-to-use site that makes money from advertising. We have a modified experience for viewers using ad blockers

Wikia is not accessible if you've made further modifications. Remove the custom ad blocker rule(s) and the page will load as expected.